In an effort to unify Artifact Binding (AB) and Connect (C), Breno (Google), John (Protiviti), and I did a bit of work at iiw and converged to the following split of the specs.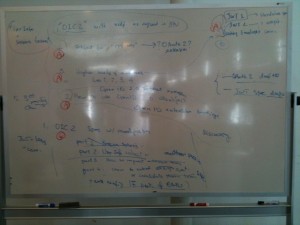 So, the structure of the spec will be as follows. ( [A] and [C] indicates Artifact Binding WG work item and Connect WG work item respectively.)
JSON Web Token [A]
OpenID Connect "Core" (UserInfo Endpoint) [C]
Using OpenID 2.0 Identifiers and extensions [A]
Session Tokens [C]
Request Pointer (Artifact) [A]
Higher Level of Assurance [A]
I have to split the Artifact Binding draft into three, but that should not be too much work, hopefully. It certainly cause a bit of delay, but convergence would be more important, I suppose.